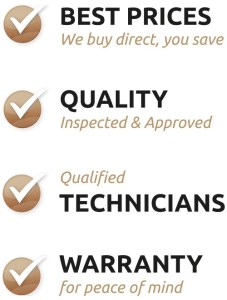 THE AUSTRALIAN PIANO WAREHOUSE IS BUILT ON A SIMPLE APPROACH: WE BUY DIRECT IN BULK, WAREHOUSE ONSITE AND PASS THE SAVINGS ON.
Our team are all musicians themselves, and are experienced in helping customers find the instrument that best suits their goals. It is important to us that you get acquainted with the instrument you are interested in, and we will take the time to demonstrate or have you play as much as you need, and ask all the questions you like. It's an important decision and one we are committed to helping you make with the right information.
PIANO TECHNICIANS: We outsource all our work to local piano technicians that are members of APTTA, the Australasian Piano Tuners and Technicians Association. This means all inspections and work are carried out by an independent qualified third party, we support small business in our local area – and you retain the freedom to choose your own technician for ongoing maintenance.
PIANO CARRIERS: We only use specialist piano carriers to deliver your acoustic or assembled digital piano. Specialist carriers use fully enclosed trucks with the right equipment and knowledge of piano structure to move them safely and with a minimum of stress and risk to the instrument. They are fully insured and can handle simple deliveries through to the most complex.
WARRANTY: Read more about product warranties here.
OUR WAREHOUSES HAVE ONSITE STORAGE OF FACTORY-SEALED STOCK READY FOR IMMEDIATE DISPATCH, AND WE PERSONALLY HAND SELECT AND IMPORT SHIPPING CONTAINERS OF USED PIANOS DIRECT TO OUR WAREHOUSES.
The advantages of this mean we secure younger pianos that are also often refurbished, we have access to a larger range to choose from – therefore quality is high – and we can ensure a majority of Yamaha, Kawai and quality Japanese brands. And of course, the power of bulk-buying and direct shipping to our warehouses represent savings that we pass on to you.
WE ARE AUTHORISED DEALERS FOR NEW YAMAHA, BRODMANN, TOYAMA, ROLAND, KAWAI AND CASIO INSTRUMENTS AND ACCESSORIES, AND CARRY THE LARGEST RANGE ON DISPLAY.
Technological advances are constantly expanding instrument options, and we are committed to displaying the best traditional acoustic instruments as well as new hybrid and digital technologies. From redesigned acoustic upright and grand piano soundboards and components to after-market additions for iPad connectivity and self-playing capabilities at the touch of a screen, the quality of engagement and sound is progressing in exciting ways.
We stock instruments to suit Concert halls, universities, teaching and home studios, gigging musicians, students and hobbyists.