Have you ever walked into a piano store and looked at two keyboards side by side and wondered why one is more expensive when they look almost identical?
Navigating the world of pianos for the first time can be tricky, so we've broken down the features of four popular home style Casio digital pianos so you can discover which is the best model for your needs.
Celviano Series: AP270 and AP470
AP270:
The entry level model into the series is an excellent choice for both beginners and hobbyists looking for a beautifully designed model that has a great feel and sound. Designed to feel like an acoustic piano, it has weighted keys with a wood-like texture. This technology, patented by Casio, is called 'Tri-Sensor Scaled Hammer Action II'.
Casio's sound technology is called 'AiR' – 'Acoustic and Intelligent Resonator. Through piano sampling, Casio has created a piano sound that is natural, rich, and resonant.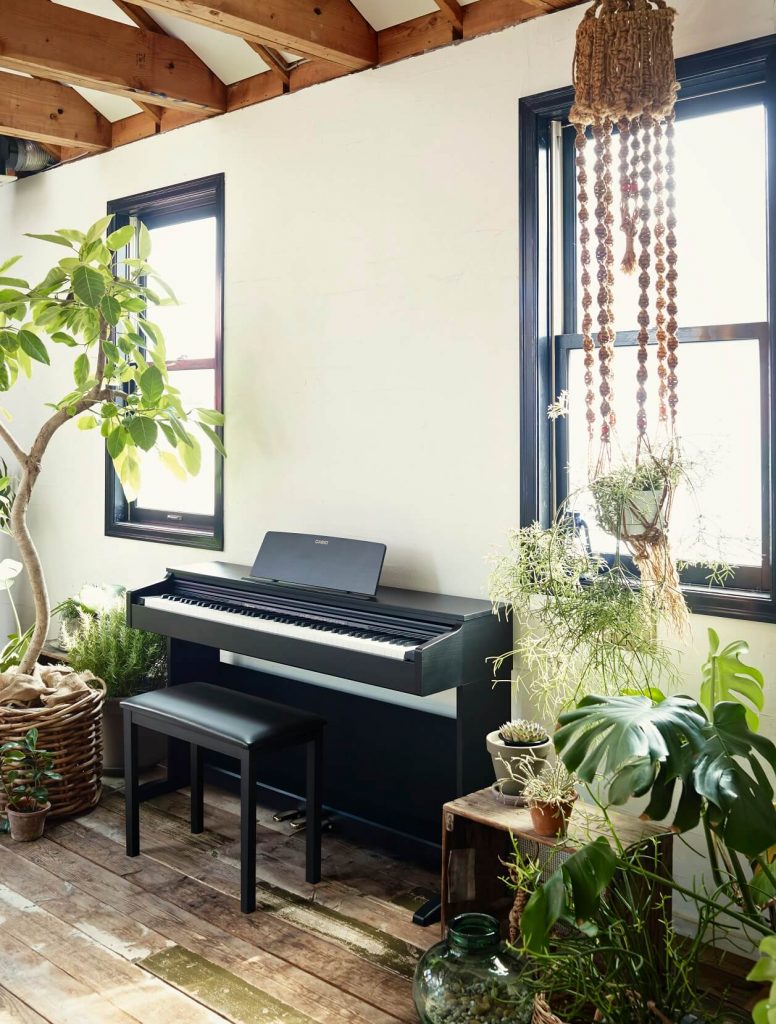 AP470:
The next model up also features Casio's Tri-Sensor Scaled Hammer Action II and AiR sound technology, but this time steps it up a notch with a more advanced speaker system – 2 X 20W. The result is not simply that it can go louder, it produces a beautifully full and rich sound.
When deciding between these two models, I encourage you to have a play (or listen to someone else play!) of both side by side. Even if you haven't played music before or claim to be 'not musical', you'll notice the superior sound on this model.
The lid is also able to be opened. Much like an acoustic piano, the lid position alters the sound and volume. This impressive feature gives the player control over their desired sound.
The AP470 also has a USB port positioned in the front of the keyboard so you can record straight to your USB and then plug into your computer for listening, sharing, or recording. Handy!
Both of these models have a metronome, built in record function, a lesson function, and app connectivity via cable. They both have 22 tones – Grand Piano 1 (concert, mellow, bright), Grand Piano 2 (concert, mellow, bright), and a selection of electric pianos, strings, and organs. 
Privia Series: PX770 and PX870
The first thing you'll notice is that the PX770 and PX870 are cased in a modern, slimline shape, rather than the traditional cabinet of the Celivano Series.
Whilst this sleek design can be simply a design preference, it also has the practical benefit of taking up less space in the home without sacrificing on sound quality.
These models also feature Casio's Tri-Sensor Scaled Hammer Action II and AiR sound source. The PX770 features the same speaker size as the AP270, and the PX870 features 2 X 20W speakers like the AP470.
The PX870 doesn't have a moveable lid like the AP470, but instead has an inbuilt 'lid simulator' function.
When compared to the AP270, the PX770 has slightly less tones – 19 instead of 22, and lower polyphony – 128 compared to the AP270's 192. For the beginner to intermediate player, this will not make a great deal of difference. These two models also have a metronome, built in record function, a lesson function, and app connectivity via cable.
Both the PX870 and AP470 have a polyphony of 256.
The AP270, AP470, PX770, and PX870 all have a folding lid to protect the keys from dust, little fingers and pets. They're also available in three colours – Black, Brown, or White.
To read more about Casio's technology, visit their website article here https://www.casio-intl.com/asia/en/emi/privia/info/#air
For a closer look at these models, feel free to visit us in store. Our experienced piano experts will guide you through each of the features on our demonstration models.