Casio is simply iconic. If you grew up in the 90's, you probably studied using a Casio calculator, was introduced to playing keyboard on a Casio instrument, and if you were really lucky, wore a trendy Baby-G watch.
Let's take a look at how Casio began.
The Four Kashio Brothers:
Casio was founded in 1946 by four brothers: Tadao (1917-1993), Toshio (1925-2012), Kazuo (1929 – 2018), and Yukio (1930-). Yukio Kashio was the companies Executive Vice President until 2014.
Another world first for Casio was the first card sized digital camera, the Exilim in 2002. Their technological efforts combined with their abilities in miniaturisation were becoming hallmarks to their success. This again was on show when they built the G-Shock brand.
After Casio lead designer Kikuo Ibe broke a pocket watch that his father had given to him in 1981, he decided to create a watch that could withstand major impact and shocks. He and his three member team created over 200 prototypes before creating what is now the worlds most durable watch, seriously, the Guinness World Records had a 24.97 tonne truck drove over one G'Shock model, the first watch by any company to be able to withstand the challenge!
Casio's corporate creed is "creativity and contribution." It expresses the company's commitment to contributing to society by offering the kind of original, useful products that only Casio can. Products with innovative functions assist people in their daily lives and keep society moving forward. They also bring joy to people and help to create new culture." (1)
Casio electronic musical instruments live up to that creed along their masterful knowledge in building technology that competes with the best of today and tomorrow.
Introduction of electronic musical instruments:
Casio kicked off the 80's with the CT-201, released in January of 1980. The Casiotone 201 was designed to be so easy and fun to play that anyone could learn it without any special training or rigorous practice. It was instantly accepted by the market as a fun new way to enjoy music. (https://world.casio.com/corporate/history/chapter02/)
The first hammer action piano by Casio came in 1988 with the introduction of the CDP3000.
Casio introduced their first hammer action piano in 1988, the CDP3000. This model laid the foundation for future models, and in 1991, the first Celviano mod el was released. It wasn't until 2003 that the first Privia model, the PX-100 was introduced.
Both the Celviano and Privia range have been updated a number of times throughout the years, and continue to be incredibly popular globally.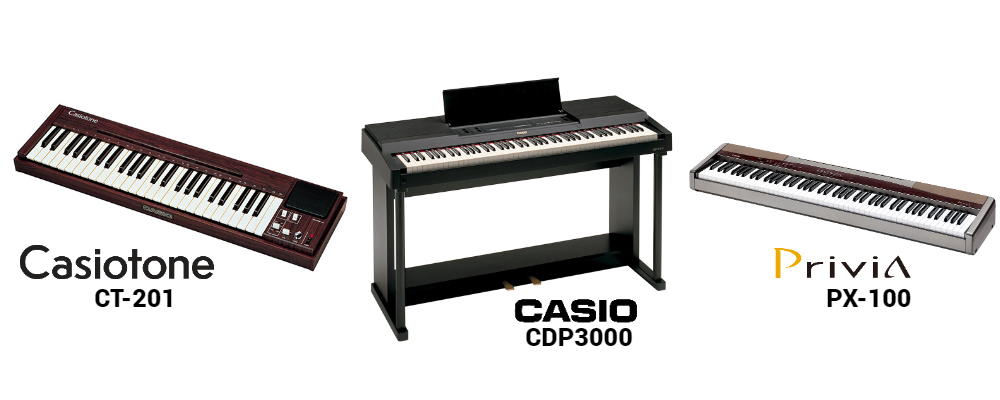 Today's must have items:
PX-S1000 – This model won a design award at the NAMM show in 2019. It's available in Black, White, and Red. Perfect for both music creation, as well as practicing and developing your skills as a piano player.
The PX-S3000 – also took home the "Gotta Stock It" award, as judged by an independent panel of retail leaders. It's similar to the PX-S1000, but with a HUGE amount of built in tones and rhythms.
Casio's newest member of the keyboard family is the CT-S1BK. It's available in Black, White, and Red. Perfect for new music learners, it has 61 keys, a built in carry handle, 61 tones, and 77 rhythms.
The AP470 boasts two superb grand piano sounds, cased in a classy piano style cabinet. Available in Black, Brown, and White. Suitable for those learning the piano, as well as more experienced piano students and professionals.
Music Learning App:
For anyone learning at home, be sure to take a look at Casio's free app – More Details.
Chordana Play for Piano: More Details
Chordana Play: More Details
Further reading:
https://world.casio.com/corporate/brothers/
https://world.casio.com/corporate/president/
https://www.casio-intl.com/asia/en/emi/history/
https://web.casio.com/emi/40th/history/ct-201.html
https://web.casio.com/emi/40th/philosophy/
https://www.casio-music.com/euro/casio-music-life/inside-casio-music/
Live Update RTP Slot Pragmatic Terkini EMAS168 (rtp-emas168.com)